About the book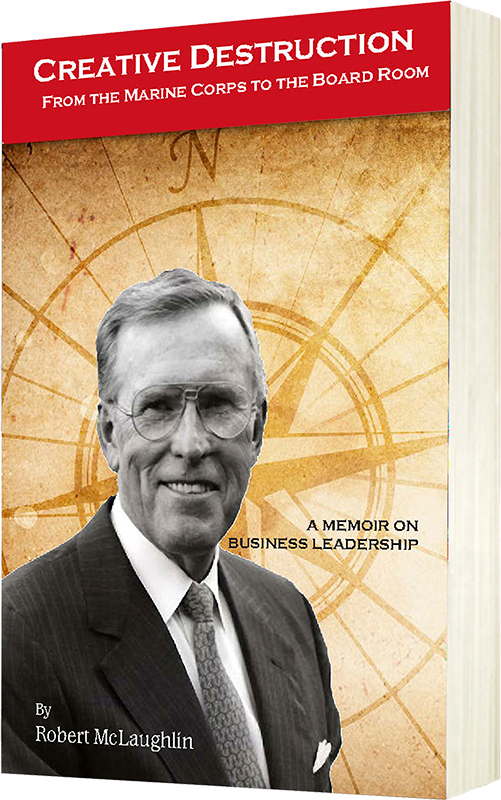 Anyone who aspires to a successful career in business must grapple with the question of what it takes to become an effective leader. What are the skills and attributes that separate the mediocre and run of the mill from the person who stands out and is recognized by his peers and superiors as a leader? How does one acquire these skills and attributes? And continue to sharpen these skills, once acquired? Anyone inclined to ask these questions would benefit greatly from reading Robert McLaughlin's memoir: "Creative Destruction: From the Marine Corps to the Board Room."
McLaughlin announces at the outset that his purpose in writing the book is to teach leadership skills. His method is to tell his "story" by describing several episodes from his life that demonstrate the qualities of leadership. And, a fascinating story it is.
Following his college graduation, he served as an officer in the Marine Corps where, due to the arduous training and rigorous performance demands, he experienced what he describes as his personal "Rite of Passage," meaning that he learned how to push himself, both physically and mentally, to carry out a mission successfully, to become an effective leader and to distinguish himself from his peers. His experience was so profound that he felt it "activated circuitry in my brain that had been dormant for 20 years." He identified strongly with being part of an "elite" corps, with its high performance bar. The Corps' "ethos," he writes, literally "changed my life." His service instilled such a powerful self-confidence that, in his words, "I felt there was no challenge I could not overcome." Upon discharge in 1957, he entered "civilian life with an attitude that success would be inevitable."
As it turned out, he was right.
At his first job, with PPG Industries, he initially worked in sales, but was soon identified as a top performer and tapped to work in a group formed to improve profitability in various business units. He was privileged to work under a gifted leader and teacher who taught him the basics of financial analysis – operating ratios, the importance of free cash flow as a measure of performance, discounted cash flow analysis, and use of internal rates of return calculations for measuring investments. Armed with this expertise, he then participated in a series of "scrutinization" studies of numerous underperforming business units to understand why they were failing and to identify measures to improve profitability. This work exposed him to the many and varied reasons why businesses fail, such as poor leadership, lack of employee training, low expectations and lack of controls. It also allowed him to develop and hone the analytical skills which became so important in his later career.
He left PPG to join Xerox in 1962, where he spent 10 years during the company's high growth period. While there, after creating several highly profitable marketing and engineering organizations, he was appointed the general manager of a blood testing company acquired by Xerox which was burning cash at the rate of $20 million a year. His mission was to figure out whether it was a viable business worth saving. He eventually concluded that it was not, and, on his recommendation, Xerox's senior management shut it down. With no liquidation value, it was a total loss. Xerox's balance sheet took a big hit, and heads rolled, lots of them, including 26 PhDs. It was a hard call that took courage. It also showed that McLaughlin had evolved into a leader who had earned the trust and respect of his superiors.
In 1973, while still at Xerox, McLaughlin was recruited to serve as the CEO of Fibreboard, a NYSE company, which was in serious financial condition, due primarily to excessive debt. After plunging into the details of the company's finances and operations, he concluded that major changes were imperative. Over the next three years, he engaged in the "creative destruction" – in this case, retrenchment, reorganization and asset liquidations – necessary to save the company from bankruptcy. Again, hard, but necessary, calls. By 1976, he had restored the company's balance sheet to good order and its operations were profitable – a remarkable achievement under the circumstances. However, off-balance sheet liabilities (unfunded pension liabilities, asbestos litigation claims and environmental compliance issues related to a pulp mill) were so large that bankruptcy again loomed. After concluding that there was no prospect that the company could survive, he arranged – with some initial opposition from its Board – for its sale to Louisiana Pacific. Clearly a difficult assignment.
By then McLaughlin knew he had found his calling. He founded a management consulting firm – The Sutter Group – specializing in turning around financially distressed companies. Over the next 20 years, his firm, working primarily for large financial institutions seeking to protect their investments, engaged in numerous successful corporate reorganizations and restructurings, turning many "sow's ears" into silk purses. Each episode of his "story" is structured to illustrate lessons in leadership. In crisp, clear prose, he takes the reader on a deep dive into the problems and challenges with which he was confronted, mainly involving underperforming or failing businesses.
He first explains how he set about identifying the issues that were causing the problems – pouring through the financial records, talking with management and line employees, inspecting production facilities, observing processes and operations, talking with customers and competitors. If necessary, even checking books out from the library to fill any gaps in his knowledge. In short, rolling up his sleeves and digging in to make sure he fully understood the business and its competitive environment. Throughout, it's apparent that McLaughlin was an extremely capable manager and financial analyst – someone who you would definitively want on your side.
With the reader now fully aware of the challenges, McLaughlin then moves on to describe the measures he instituted to fix and restore the business to profitability. Repeatedly, he invokes the need for "creative destruction," which, in this context, means "the introduction of new objectives and new standards of performance for a business organization and destroying whatever objectives and standards that existed previously." Not surprisingly, it frequently involved the need to sell prized assets to generate cash to reduce debt, to cut costs by retrenchment, and to replace incompetent or complacent management – all highly disruptive measures. However, many times less draconian measures, such as providing better performance incentives, improving manufacturing processes and inventory control, were sufficient.
But, whatever the remedy, the reader, with the benefit of immersion into the factual context of each episode, has been exposed to the process of learning why McLaughlin did what he did in each instance. It's a very effective approach to driving home the lessons learned about the leadership, knowledge and managerial skills that were necessary to achieve the remedy.
At the end of each episode, McLaughlin distills the lessons learned from the experience. The eternal verities – the need for trust, passion, excellence, courage, diligence, resilience – are all there, but also many other worthwhile insights of a more granular nature, such as: take care to choose an "elite" employer, one that demands excellence and that invests in its employees by training ("Sharpen your saw!"); learn how to use "segmentation" to break down big problems into smaller, more manageable ones; when selling a business, always model its operation under the new ownership to show the buyer the benefits of combining the two businesses -- never assume the buyer has done the analysis; you do not select a mentor, mentors select you based on their positive assessment of your leadership potential.
It's all sound advice based on lessons from McLaughlin's life regarding ethical and personal challenges that do not change from one generation to the next.
In the end, one is left with the distinct impression that the most formative experience of McLaughlin's life was his service in the Marine Corps. It transformed a dyslectic, mediocre student, someone with little self-esteem who was always chosen last for a team, into an effective leader, instilled with the self-confidence that led to a very successful career. It also left him with a life-time inventory of lively stories and yarns about his days with his buddies.
When was the last time you heard someone say that about business school?
— John Collette